There are times a client's presentation gives me shivers. I know in deep down in my speaker coach bones that it will create a deep impact and have a ripple effect – that the call to action will resonate and have legs.
Let me introduce you to Rabbi Dan Moskovitz, the senior rabbi at Temple Shalom in Vancouver, BC, Canada. Dan is one of the best orators that this gentile has had the pleasure of working with. His public speaking skills are the calibre of President Obama and Prime Minister Trudeau (senior).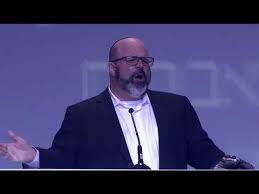 The sermons that we worked together on gave me those shivers.
Dan is a fine wordsmith. He writes all of his sermons himself. He has near impeccable delivery. He also has a thirst to learn and push the envelope.
I learned from a member of his congregation that he often fills the synagogue sanctuary to capacity because of his gift for delivering sermons that touch people's hearts and minds – they are real and relevant.
Dan contacted me because he wanted to be even more polished – have each word and turn of phrase carry inspiration and impact.
He also wanted to learn how to move away from the barrier of the podium – to move freely on the dais and closer to his congregation, which would mean not reading or memorizing his sermon. This is one of the easiest yet most difficult public speaking skills to achieve because it calls on a presenter to trust. To trust they don't have to memorize an entire speech. To trust that memorizing the key points is enough. And to trust that each practice will sound different and relaxed.
Dan moved away from the podium and skilfully delivered. But I'm sworn to secrecy as to how he did it.
Untethered delivery is purely mechanics. As important, with each iteration the sermons became more fine-tuned in an effort to prompt and persuade his congregation to take him up on the call to actions. I was part of the team that critiqued the evolving drafts.
He had two calls to action.
The first was contained in his Guardian of the Earth sermon for Rosh Hashanah. To say it was timely is an understatement. When Greta Thunberg has just arrived in North America and there are massive global protests about the world's slow action around climate change, and you are speaking about climate change yourself, you've been set up nicely.
Dan's sermon spoke to the congregation about rising above the noise of climate change naysayers. He asked them to turn to the legacy they'll leave behind – to focus on our youth – to make inroads to change the trajectory we're on of rising seas and intolerable weather conditions. The specific ask was to sign up to commit to reducing energy consumption in their households. Clear call to actions similiar to this one work because they are specific and measurable. It's how both Dan and I will know that his sermon was persuasive.
The sermon was about 25 minutes long and I've given you a Cole's Notes version. I encourage you to watch the recording. Dan's presentation is a fine example of how to craft and deliver a sermon/presentation. The content and delivery are close to flawless.
The second call to action was spoken to in the Yom Kippur sermon titled Loneliness that Dan delivered ten days later. The message spoke to how many people in their community feel isolated and lonely and what the community could do to alleviate a growing concern.
Client presentations that are close to my heart are a guilty pleasure to work on. I am a downtown apartment dweller in a city that is known for not being very neighbourly. Ten years ago, after 34 years of commitment, my marriage fell apart. I had to (and did) create a new life for myself. It wasn't easy but I'm so glad I took the time to become in involved in my community and build close friendships. I know however, that many people aren't as stubborn as I am and they feel lonely and are isolated.
Dan referenced an eye opening and thought provoking 'state of the union' – The 2017 Vancouver Foundation report states that 1 in 7 Metro Vancouver residents say they are often or always lonely and 1 in 4 say they feel isolated. The stats are startling but where do we go from there?
Dan asked his community to sign up to be matched with someone who had reached out for companionship whether a coffee date or a walk or? A very clear call to action.
As a speaker coach part of the process I share is determining how you (the presenter) want to move your audience. It's key that you know what your audience needs to know, think, or do. I haven't heard back yet, however I highly suspect that Dan's congregation will be engaged and come through and support their community.
The sermons created quite a buzz and lots of discussion, in part because they were a bit different than his congregation was used to, and also how relatable and persuasive they were. A federal Member of Parliament asked for copies of the sermon.
I suspect that many who welcomed this gentile to the synagogue felt shivers. They felt the urgency of what was shared and the importance of holding the messages close to their hearts too.